Kiel Figgins - Character Animator
---
Film Broadcast Personal Resources Reel Resume Contact Store



Animation - Machinima Logo from Kiel Figgins on Vimeo.


Machinima - Logo
Fall 2013
::8mb::

Duties Include: Animation / Rigging / Cameras

A fun project that involved a lot of shot specific elements. I was surprised to see some of my previz assets make it into the final, such as the design of the missiles, the interior of the bunker and the little robots I used to populate the bunker using some clips from a mocap library. Though they are a small detail, I'm still pleased to see them in there.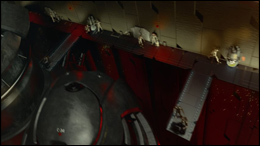 Property of Create, 2013